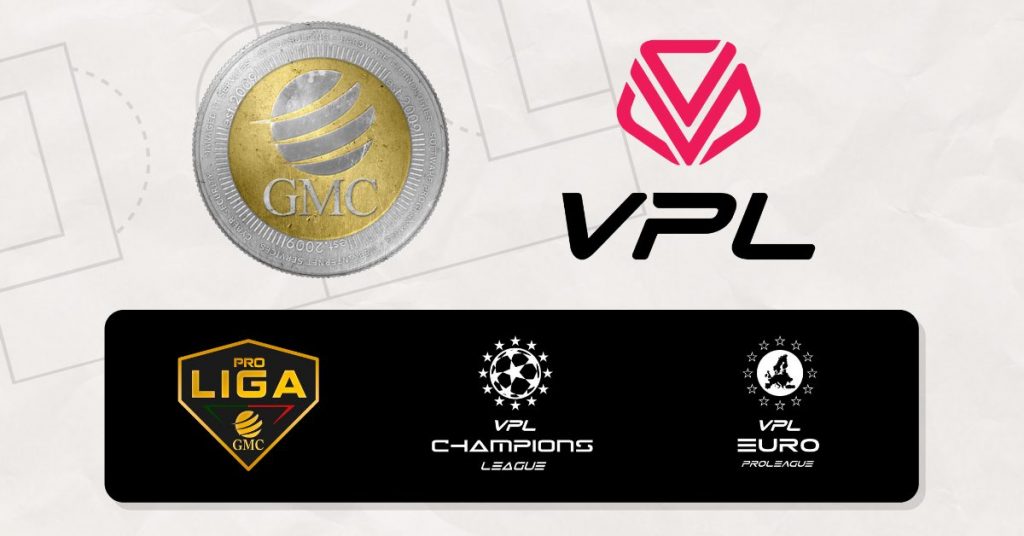 Bodrum, Turkey, 15th March 2021, ZEXPRWIRE – The audience of esports has grown by more than 15 million users and leaves only a few million people over the past year. Based on research data, we can say that the size of the community is increasing by 23-25% per year.
Simultaneously, 24% of respondents say they are loyal to brands that invest in esports. Naturally, the technological and gaming market is leading in this area, but it is being caught up in the niche of carbonated drinks, energy drinks, and food delivery.
Sponsoring an esports team is about interacting with a warm, loyal audience. Therefore, we received a good response and plan to continue the project. GMCoin is one of the biggest companies to support the esports platform Virtual Professional League. 
VIRTUAL PRO LEAGUE – VPL is a competitive eSports Platform where clubs and players find each other to play 11vs11 and 1vs1 virtual matches and tournaments. Through the platform, they provide an immersive experience for Video Gamers passionate about Virtual football. 
VPL has built an innovative and dynamic system through which clubs and players can find each other, fight for glory, and compete against the best teams in the world.
How does Virtual Pro League's Tournament works?
Virtual Pro League was born in March 2018 to be the best competitive platform for FIFA in all modes 1vs1 & 11vs11 and always seeks to develop E-sports to transform virtual reality to reality and support companies interested in the same field and discover the best players and organize the biggest competitions globally.
An innovative, functional and dynamic system has been developed, through which clubs and players can find each other, face each other for glory competing against the best teams in the world.
VPL's Mission is to create the best 11vs11 Pro Club tournaments and 1vs1 online trying to offer the best tournament management platform.
Vision is a qualified team and a well-structured international system are the keys to high-level competitions. Innovation of technology tools is another key issue for the future of VPL.
More on VPL Championship
NATIONAL – Club
National Championship [Leagues A, B, C, D]
National Cup
National Supercup
CONTINENTAL – Club
1st Class Cup (ex. VPL Champions league, Libertadores)
2nd Class Cup (ex. Euro Proleague, Sudamericana)
VPL International Open Cup
VPL International League
GLOBAL – Club
VPL International SUPER Cup
VPL Club World Cup
NATIONAL TEAMS (ex. Italy, Spain,Brazil)
VPL NATIONS EURO CUP – VPL NATIONS AFROASIA CUP
VPL NATIONS WORLD CUP
VPL also collaborated with FRANCESCO TOTTI (Italian former professional footballer who played solely for Roma and the Italy national team primarily as an attacking midfielder or second striker)
Check out this video: https://www.facebook.com/FrancescoTottiOfficial/videos/2712325825472464/
Sponsorship Details:
VPL Champions League Event Sponsorship
VPL Euro Pro League Event Sponsorship
GMC Proliga Portugal League Sponsorship
GM Informatics JSC CEO Mehmet Ali Demirci, states that; with this sponsorship we are powering the esports community, our investments on sports started with Turkish Handball Super League team Beşiktaş Aygaz and continues with VPL, which we name it as the leader in Pro League events. We are very glad to be part of this great organization. We will continue our support and hope to have a long term partnership with VPL.
On behalf of the agreement GMCoin (GMC) has been the main sponsor for VPL Portugal Premier League as well as event sponsors for the VPL Champions League and VPL Euro Pro League.
As Esports' audience is well bound with the technology and already familiar with the blockchain world, GMCoin is making way for enthusiasts much easier by sponsoring VPL.
Mehmet Ali Demirci continues his words as; it is really important for blockchain companies to support real world scenarios, we started with handball, continuing with esports. Yet we will publish new projects and blockchain related investments in the future. We are the only company that is trying to fully integrate blockchain and decentralization concepts to every process within the company, GMC is the flagship of this concept; is a new kind of business based token that is to be used for future projects of our company.
About GMC
The GMCoin Blockchain project, business-based, multi-layered token that is to be used mainly to operate new blockchain projects from all over the world. GM Informatics JSC team focuses on processing details of the blockchain products and services and aiming to create a fully tokenized company. The makers hope for the immediate success of this new token system among global investors.
GMC is the latest introduction to the world of blockchain technology to implement a variety of exciting programs. GMC (IT / ICT Managed Services Giant GM Informatics JSC) now sponsors Virtual Pro League, VPL..
Media Contacts –
GMC-GM Informatics Joint Stock Company
Facebook – https://www.facebook.com/coingmc/
Twitter – https://twitter.com/coin_gm
Github – https://github.com/coingm
Medium – https://medium.com/@gmcoin
Telegram – https://t.me/gmcoin
VPL-Virtual Pro League Limited Company
Facebook – https://www.facebook.com/VPLglobal
Twitter – https://twitter.com/VPLglobal
Instagram – https://www.instagram.com/vplglobal/
Youtube – https://www.youtube.com/channel/UCm9RR6mzzb1nIC4hrGTSaoQ
The post GMCoin signs as official sponsor for esports platform Virtual Pro League VPL appeared first on Zex PR Wire.
Information contained on this page is provided by an independent third-party content provider. Binary News Network and this Site make no warranties or representations in connection therewith. If you are affiliated with this page and would like it removed please contact [email protected]