Zürich, Switzerland, 14th November 2023, ZEX PR WIRE, Trading is detrimental for new crypto users because it often results in losses and setbacks, tarnishing the reputation of crypto. To enable billions of people worldwide to use and trust crypto, crypto payments are the best solution.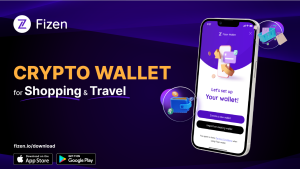 The Fizen Super App, fueled by numerous partnerships, is revolutionizing how people engage with and spend cryptocurrencies daily. With a focus on accessibility and convenience, this app aims to make crypto payments more mainstream for everyone.
Boosting Crypto Adoption
Thanks to the remarkable growth of crypto, crypto transactions now have low fees and quick processing times, making them suitable for microtransactions such as buying coffee, cinema tickets, or going to the supermarket. This was inconceivable just a few years ago.
The Fizen Super App serves as a non-custodial wallet for users to secure their crypto while providing an on-ramp service to facilitate easy crypto purchases. Notably, the app offers 25,000 services from 3,000 brands in 80 countries through gift cards for daily consumption. 
Fizen's business merchants also provide numerous products and services for crypto users, such as more than 1 million items from 4,900 high-end brands, eSim in 120 countries, private jets, online doctor services, and many more. 
Fizen has integrated the QR Code payment method, which is already popular in Asia, enabling users to utilize crypto for even more purposes. This feature will be deployed in Q1/2024. Fizen's development roadmap also focuses on features for travel, with over 2 million hotels and 200 airlines being integrated. 
Most people have consumer needs, shopping, and travel. Using crypto for these activities will make users appreciate and trust crypto, spreading positive and good information through word of mouth.
Going Beyond a Crypto Wallet
The Fizen Super App is currently the best wallet for crypto payments. Fizen doesn't stop there; it is expanding to become an ecosystem where many partners can participate and reap various benefits.
Fizen Pay is a crypto payment gateway specifically for businesses that want to accept cryptocurrency payments, whether online or offline, at the point of sale. The fee is only 0.5%, compared to 3%-6% for credit cards. 
Businesses receive funds immediately instead of being held for weeks with other traditional payment methods. Moreover, businesses can receive crypto or fiat money based on their needs and the regulations of their country.
Blockchain projects with tokens can bring their tokens into Fizen's commerce and travel ecosystem, adding utility to their tokens and allowing users to use tokens for payments and shopping.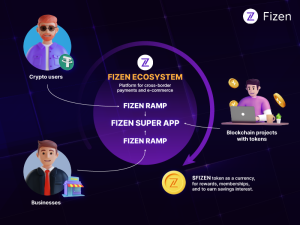 Fizen has collaborated with major partners such as Bitcoin.com with over 40 million users, Funtoken with 50 million gamers, Angle Protocol providing a Euro stablecoin with a transaction volume of ~11 billion Euros (as of November 2023), and many other partners.
Fizen believes that users will trust and favor tokens, and they tend to want to own more tokens if the tokens have high applicability.
Building a Safe and Healthy Place for Crypto
Fizen proposes a shift from the complexity of DeFi and the risks of Trading and GameFi. Fizen emphasizes the "digital currency" aspect of crypto, suggesting its use as a common exchange medium for typical goods and services.
Leo Vu, the CEO, brings 8 years of blockchain and cryptocurrency experience to the table, backed by successful startups in the US. He believes that introducing new users to crypto through trading is harmful. He suggests that this approach often leads to losses, breeding negativity, and creating toxic Web3 users. 
In stark contrast, Fizen's user base engages with its Super App for daily needs. This community holds onto crypto for the long term and cultivates the habit of value investing.
About Fizen
Fizen is a forward-thinking fintech company registered in Zurich, Switzerland. The team began building the three main products—Fizen Super App, Fizen Pay, and Fizen Ramp—in January 2022. 
The $FIZEN token will serve various purposes, including payments, rewards, membership, and staking. The team is consistently seeking businesses interested in reaching Fizen's crypto user base and 400 million other crypto users worldwide. 
Blockchain projects with tokens looking to enhance their token's utility should also consider collaborating with Fizen.
Contact: [email protected]
X (Twitter) | Telegram | YouTube | LinkedIn | Facebook
The Post Fizen.io Presents Plan to Boost Crypto Mass Adoption through Payments, Not Trading first appeared on ZEX PR Wire
Information contained on this page is provided by an independent third-party content provider. Binary News Network and this Site make no warranties or representations in connection therewith. If you are affiliated with this page and would like it removed please contact [email protected]